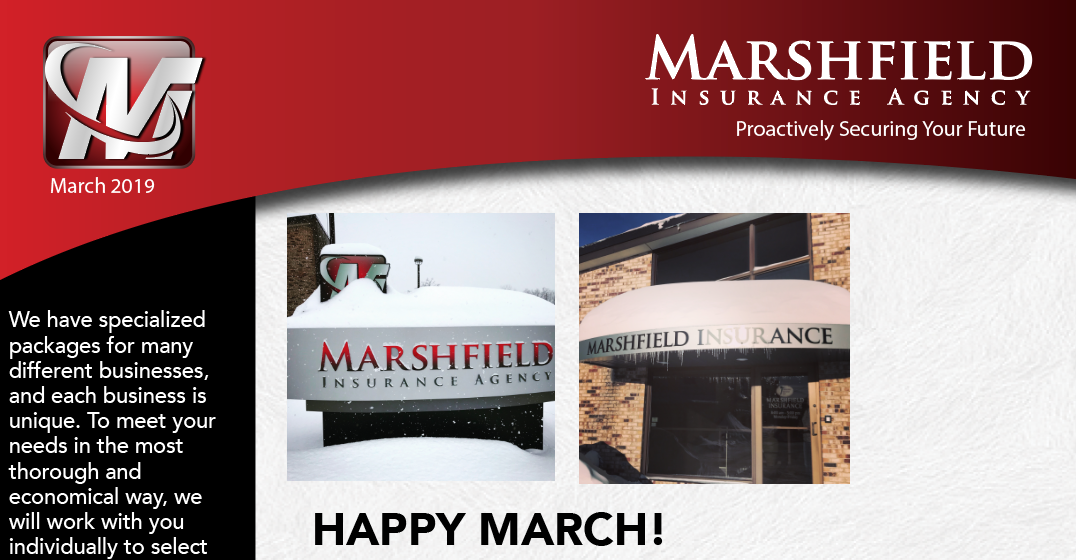 Our March 2019 newsletter is out now. Click here to read!
It's been a snowy February here in Central Wisconsin, and here at Marshfield Insurance we are dedicated to helping our customers stay safe and protected no matter what the weather throws at us!
Inside, we share tips on snowblower safety, roof collapse protection, slip and fall insurance, & more!
While winter continues to provide challenges outside, it's been an exciting time inside the office. Last month, we ate a lot of cake here at the office, as we celebrated Beth's retirement and Brian's 10-year anniversary! Congrats to both of them and thank you for being a part of the Marshfield Insurance family!
We also have exciting news on the Fore Roger front. We hope you can join us on July 17 for our fundraising golf outing in memory of Roger Arnoldy. Online registration is now available. Confirmed guests for the event are Frank Winters, Scott Tolzien, and Bill Ferrario!
Also inside, meet our Commercial Service Team! They are here to help with your business needs. As always, stay safe and call us if you need anything!
Share this post?