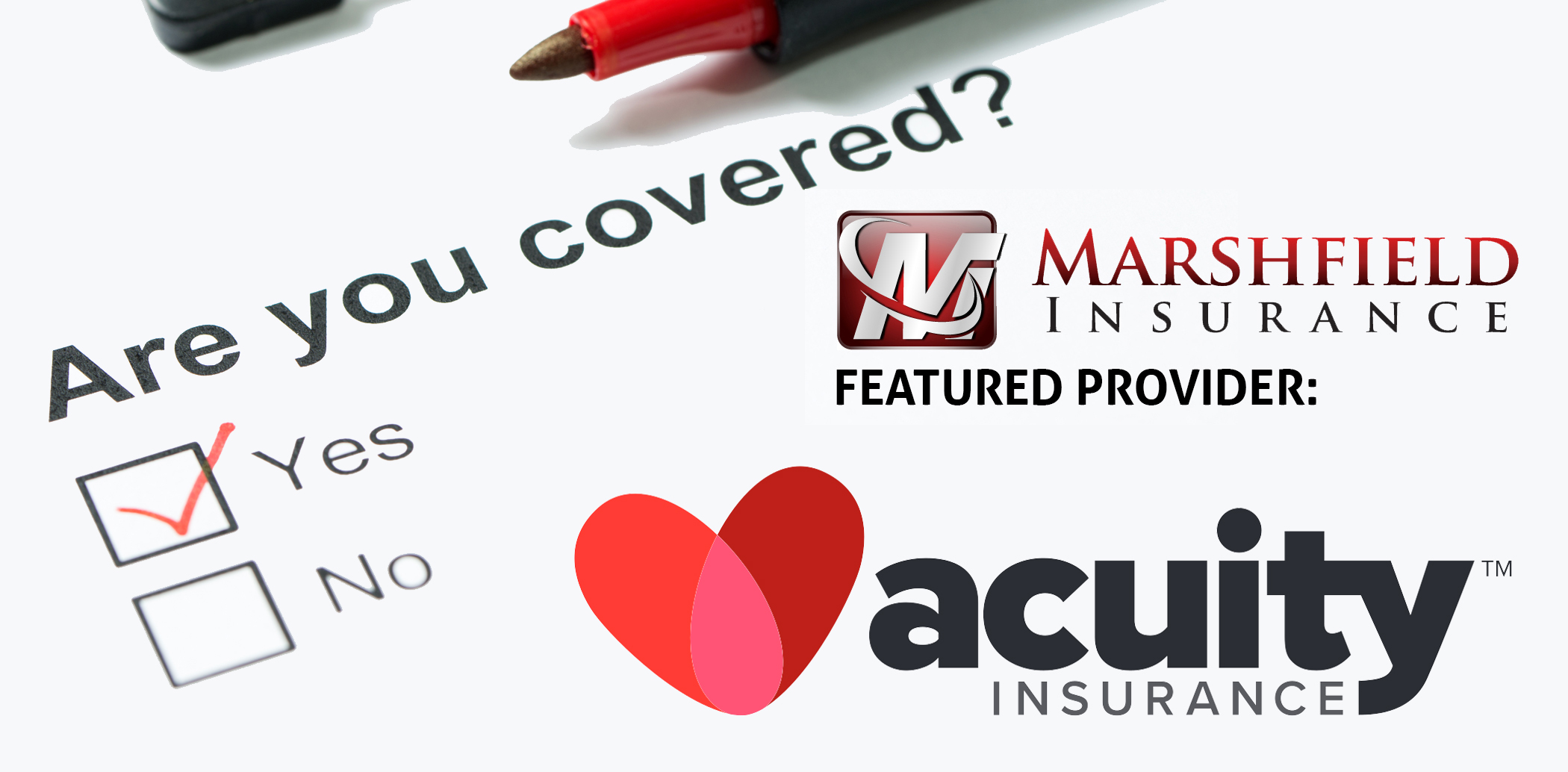 Marshfield Insurance works with a wide range of quality insurance providers. Our expert team helps you find the coverage you need at the best price possible. We want to showcase the great companies that we work with, so for this first feature we are highlighting Acuity Insurance!
How long has Marshfield Insurance been working with Acuity?:
Marshfield Insurance's relationship with Acuity dates back to the inception of the agency which is 1984 when Acuity was known as Heritage Insurance Company. Eventually they rebranded and changed their name to Acuity in 2001.
What does Acuity offer?:
Acuity is a strong WI based property & casualty insurer with an A+ "A.M. Best Rating" and $4 billion + in assets.  They offer commercial insurance on industries such as: construction, manufacturing, trucking, retailers, restaurants, distributers and rental properties. They also offer personal insurance products including home, autos, umbrellas, cycles, boats, snowmobiles, etc.
What do you enjoy about Acuity?:
Acuity's responsiveness in all areas is as good as it gets.  If the agency needs a quick turnaround in the underwriting department they are there to help, certainly that comes with the long history but they've never let us down.  Claims, on average, are superior.  I can recall a total building loss a few years back, we called in the claim mid-afternoon and the adjuster was on site with resources available at 7 a.m. the next day!  That is an concentrated example no doubt, but when we have a claim with Acuity I always feel confident our policy holder will be treated well.
Is there anything unique about Acuity?:
They have the world's tallest American symbol of freedom, a 70' x 140' American flag that stands 400ft. in the air.  It is the world's largest free-flying American flag. More info à https://www.acuity.com/about/flagpole.
How does Marshfield Insurance's relationship with Acuity benefit MI customers?:
Knowledge of the products you sell, along with industry knowledge separates the average agent from the ones that stand out.  I would say because we are so familiar with Acuity's appetite for business, their claims process  and overall understanding of how they do business, this allows us and our clients the best experience possible when procuring coverage and when they need to access their policy's benefits.
Is there anything else you'd like to add?:
Acuity is one of a few carriers we've had since we've opened our doors.  They've helped us grow into who we are today, we've had very little turnover when it comes to working with specific underwriters, adjusters and loss control representatives which helps streamline all areas of service to the client.  They are great to work with and we are proud to offer their products!
-Nick Arnoldy, Owner/Broker
Share this post?