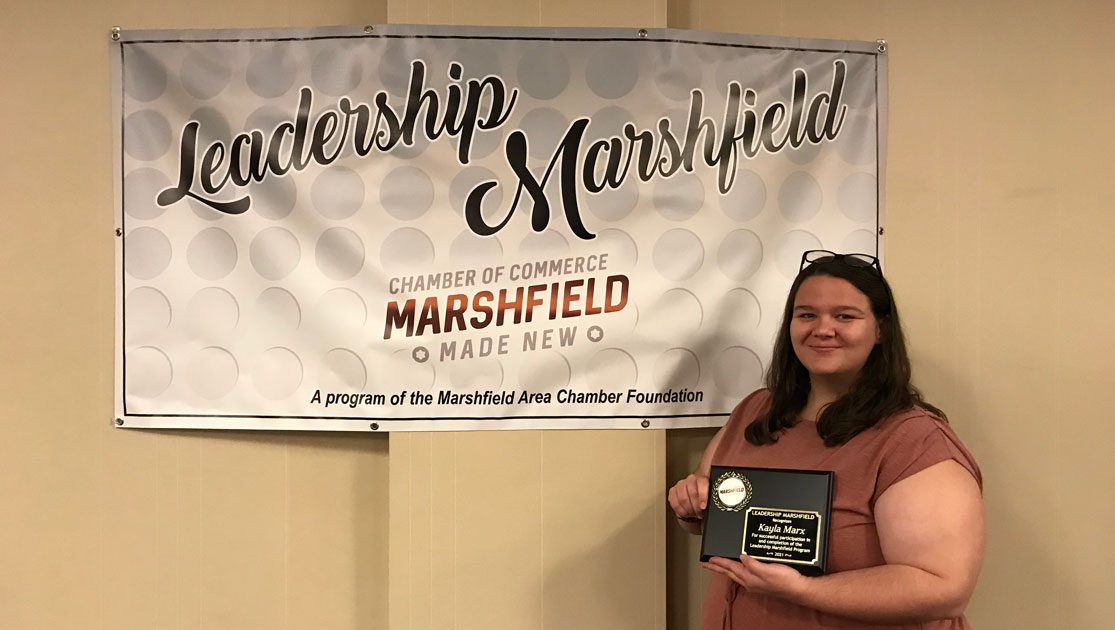 Marshfield Insurance Agent Kayla Marx officially graduated from Leadership Marshfield today. Marshfield Area Chamber of Commerce and Industry (MACCI) hosts the annual leadership program, with the purpose and objective to identify current and potential leaders in the community and provide a training program that will enhance their ability to function as more effective leaders.
Class participants participate in a series of eight informative one-day programs and develop group projects designed to meet each individual's interests and community needs.
"It's something we've been doing for a number of years as a way to network and get out into the community and help," said Marshfield Insurance President/CEO Nick Arnoldy. "It's all about involvement."
Other MI team members that have completed the program include Cory Hoffmann, Pete Lotzer, Wendi Brueggen, Carmella Moon, Barb Kuhn, and Arnoldy. Arnoldy was named Leadership Marshfield Alum of the Year in 2017.
For Marx, a lifelong Marshfield resident, the program was enjoyable and eye-opening.
"I grew up in Marshfield and thought I knew everything there was to know about living here. This wonderful program proved me wrong!" she said. "I loved learning more about this community through Leadership Marshfield and can't wait to keep learning more about what it has to offer. Plus, it was a great way to develop relationships with other professionals in our community. I would encourage anyone who has to opportunity to be a part of Leadership Marshfield to do so!"
Congrats, Kayla!
Share this post?