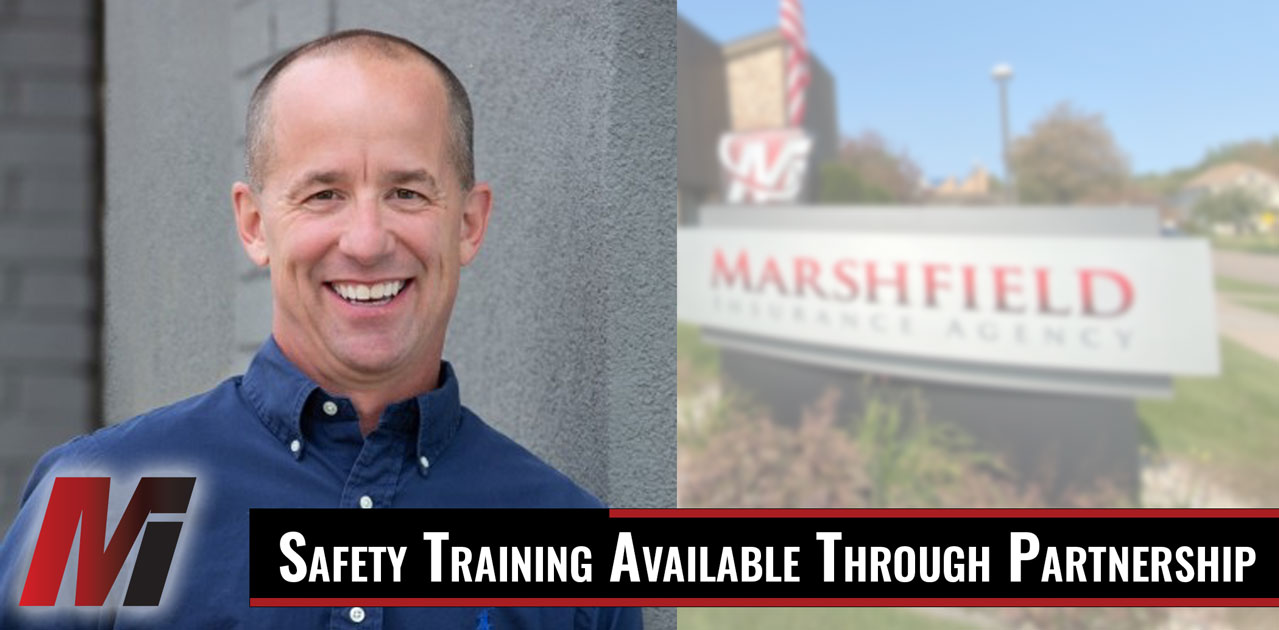 Safety is a key component of any business and Marshfield Insurance has partnered with Ted Carew, CHST, to provide customers with important safety training resources, inspections, and insurance protection.
"Ted will visit your business and help you with procedures and implement safety measures to protect your employees and be prepared for OSHA," said Nick Arnoldy, Marshfield Insurance President/CEO. "He gives you an unbiased view with a lot of experience. I trust his opinion because he's the kind of guy that is honest and will tell you what you're doing correctly and what can be fixed."
If you're a larger company that requires OSHA 10 training, for example, insurance companies don't provide this service. However, Marshfield Insurance customers have access through their partnership with Ted.
"We help companies that don't have their own safety person to #1, make sure that they are compliant and #2, make sure they are keeping their workers comp dollars down. This allows them to be most competitive in the marketplace," said Carew. "We're a team with Marshfield Insurance – a one-stop-shop for your insurance and loss control needs."
Carew first evaluates a business's safety measurements, including incident rate, EMR (Experience Modification Rate), and do a mock OSHA inspection. From there, he develops a plan for improvement.
"We evaluate and assist them in making their workplace safe," said Carew. "This also improves efficiency because workers that work safe are going to work better."
He also educates businesses about the OSHA inspection process, coaches and prepares them for OSHA interactions, and helps if there ever is an issue after an inspection. With decades of industry experience, Carew enjoys using his knowledge and background to help businesses thrive.
"I enjoy working with people. At the end of the day, it's all about family. I enjoy making sure that employees go home to their families each and every day," he said. "We're also able to efficiently help business owners be more profitable. They are not spending that money on people getting hurt. Workers compensation costs can be substantial, and if you create a safe place to work you build a culture in which people are more productive."
Safety is an important investment for any business.
"Safety really pays," said Carew. "It's an upfront cost, but when a company sticks with it there are many studies that show it is worth it all around."
Carew said he enjoys working with Marshfield Insurance customers because he is able to assist them with their needs and help make whole organizations more efficient through safety.
"We're a service through Marshfield Insurance that does not have any obligations to Marshfield, so we're going to tell clients what we see in an unbiased way," said Carew. "By working with Marshfield Insurance, we are able to provide a team approach to safety that covers EMR, worker's compensation, and more than either of us could do on our own."
To learn more, contact Marshfield Insurance today!
Share this post?