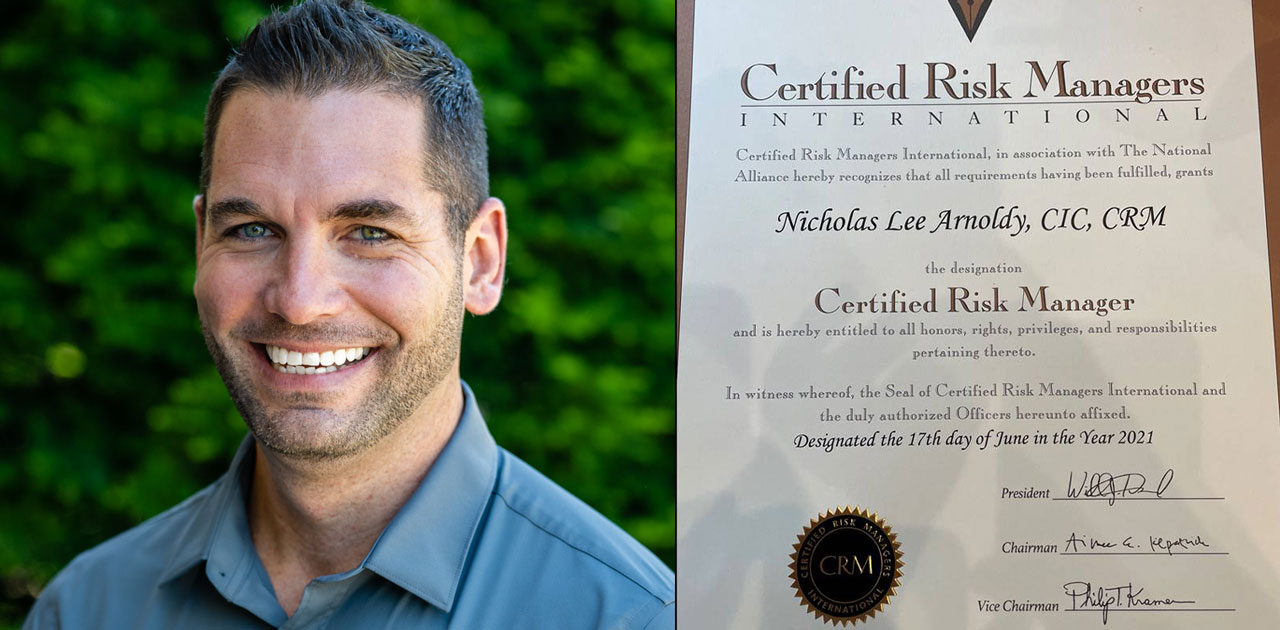 The designation of Certified Risk Manager (CRM) has been conferred on Nick Arnoldy, President/CEO of Marshfield Insurance, following his successful completion of a rigorous risk management education program sponsored by the Society of Certified Risk Managers.
Arnoldy has also maintained a Certified Insurance Counselor (CIC) certification since 2010.
"The motivation for first doing the CIC program was to have a deeper understanding of the insurance contract within property & liability policies," said Arnoldy. "The CIC designation dissects coverages and exclusions in claims situations, essentially providing the aspect of the claims adjuster."
There are over 152,000 insurance agents licensed to do business in Wisconsin. Just 918 of those are CIC certified and only 122 of those have CRM designation. Arnoldy joins the small percentage of those who have obtained both designations.
"The CRM designation focuses on the underwriting side of property and casualty policies, calculating 'total cost of risk' and 'forecasted loss ratios,'" explained Arnoldy. "Having the CRM knowledge recognizes the analytical side of underwriting and positions Marshfield Insurance and our clients better when working with insurers on policy terms. CRM's focus also includes loss control measures and plans relative to large commercial risks which is an additional service we also offer."
Arnoldy's accomplishment was affirmed by the President of the Society of CRM, Dr. William T. Hold, Ph.D., CIC, CPCU, CLU. The Society of CRM is a key member of The National Alliance for Insurance Education & Research, the nation's preeminent provider of insurance and risk management education.
The National Alliance conducts more than 2,500 programs annually throughout all 50 states, Virgin Islands, Mexico, Puerto Rico and around the world. This program is designed to serve a variety of individuals practicing risk management so that they may better serve their clients' insurance and risk management requirements.
"Mr. Arnoldy has demonstrated his professional competence through the successful completion of the five CRM courses and the corresponding comprehensive examinations that focus on all major fields of risk—principles of risk management, analysis of risk, control of risk, financing of risk, and practice of risk management," the organization said in a statement.
To learn more, please visit www.MarshfieldInsurance.Agency
Share this post?