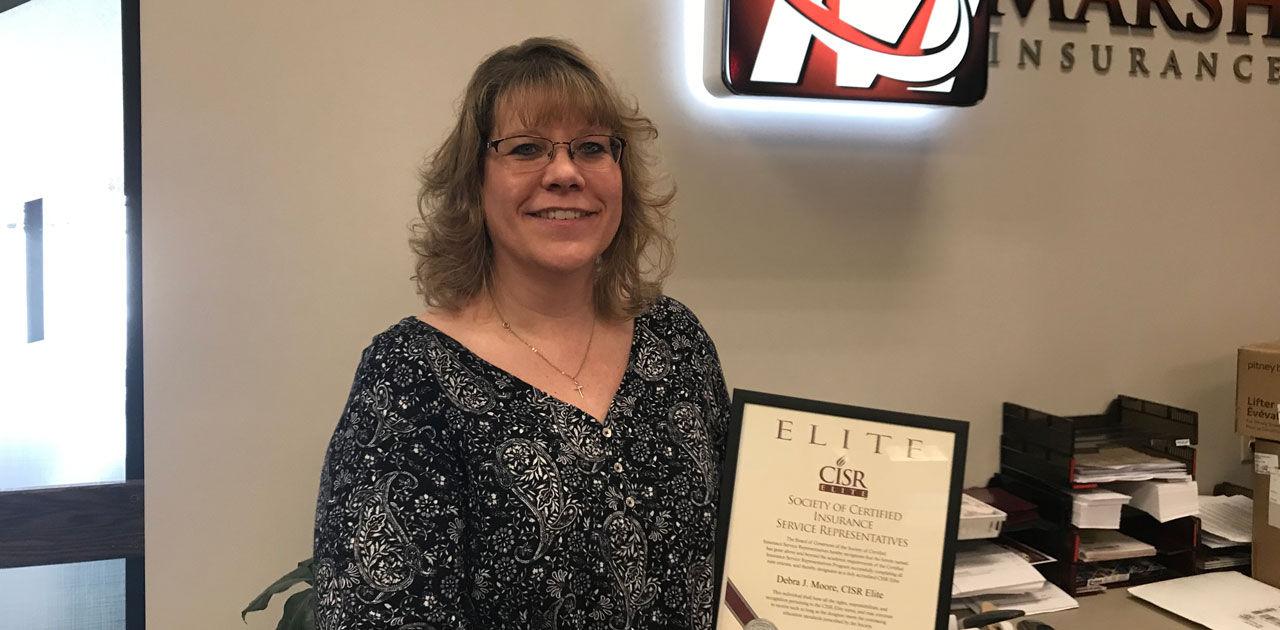 Debbie Moore, accounting and Customer Service Agent, is the latest agent at Marshfield Insurance to obtain her CISR-Elite designation.
She is now one of five service agents in the Marshfield Insurance office recognized by the National Alliance for Insurance Education and Research for upholding the Certified Insurance Service Representative (CISR) designation, and the third to achieve the CISR-Elite status.
A licensed agent can take classes and test to achieve the CISR designation. Once completed, additional classes and examinations can be taken to become a CISR-Elite.
"As Insurance Agents, we are required to have 24 continuing education credits every two years to renew our insurance licenses: 21 Regular credits and 3 Ethics credits," explained Moore. "These courses are required to renew our insurance licenses and they help refresh and keep us up to date with changes in the world of insurance. These classes and designations only help us to serve our clients better!"
"Continuing education that is required to maintain your insurance license can be bland and inapplicable," added Nick Arnoldy, owner/broker at Marshfield Insurance. "By working towards a National Alliance designation it ensures the updates we receive are not only relevant but are presented by leading consultants and professionals in the industry."
A CISR designation signifies an ongoing commitment to professionalism and is earned by successfully completing five of the nine CISR courses. As a result CISR-elite agents acquire a broader base of knowledge, a more comprehensive skill set, and recognition for their initiative. CISR designation covers many different areas in the fields of insurance, risk management, and benefits, making agents more valuable to their employer, to the carriers they represent, and above all, their clients.
"We take a lot of pride in doing more than what is required," said Arnoldy. "Our staff is motivated to take more challenging updates and test for designations so that we're resourceful for our clients."
Learn more about Marshfield Insurance and CISR designation by contacting them at 715.387.4443.
Share this post?