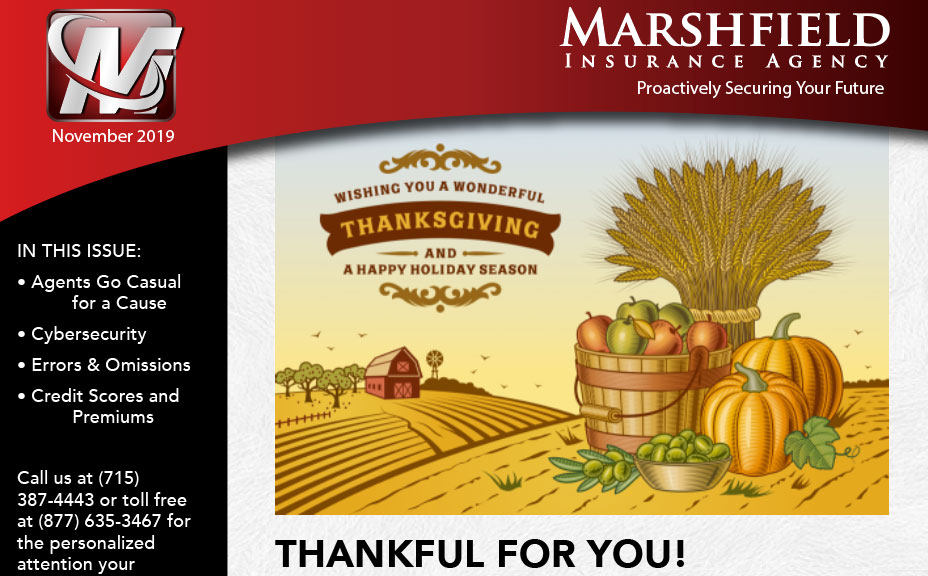 November is here and with it, Thanksgiving. It's a time to reflect on what we're thankful for – and here at Marshfield Insurance, we are thankful for YOU. Thanks for trusting us with your insurance needs!
>>>>> Read the latest edition of the newsletter here.
We wish all of you a great start to the holiday season! Here's what to expect in this issue of the
newsletter…
Have you ever wondered how credit scores affect premiums? Wonder no more, because Tricia explains!
October was Cyber Security Month, but it's a good idea to know how to keep your data safe all year long – Ryan shares some tips on how to do that.
Learn about Errors & Omissions from Cory and how to ensure your website is ADA compliant from Nick.
Also, read about why the staff at Marshfield Insurance is going casual…for a cause!
Plus, Debbie and Wendi share a photo from their experience at AppliedNet. A full article will be in the next issue, recapping what they learned.
Do you have something you want to learn about or have an idea for a topic for future newsletters?
Send us an email at info@marshfieldinsurance.net or call 715-387- 4443. We'd love to hear from you!
>>>>> Read the latest edition of the newsletter here.
Share this post?