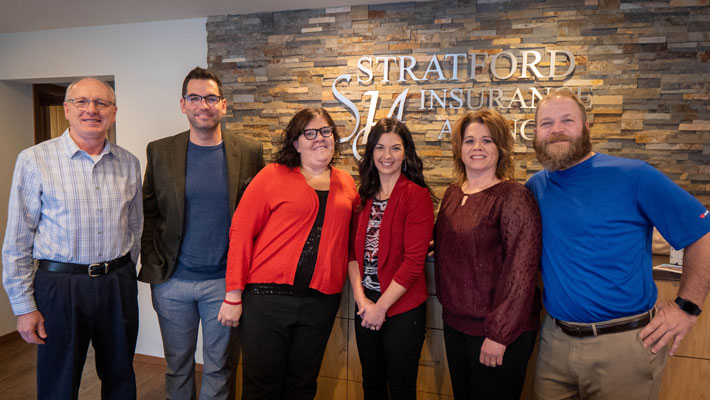 Marshfield Insurance Agency is excited to announce that they have expanded their offices into Stratford, Wisconsin. Stratford Insurance, an Independent Insurance Agency with over 45 years of experience, recently merged with owner Nick Arnoldy of Marshfield Insurance.
Stratford Insurance Agency specializes in auto, home, business, farm, and life insurance and prides itself on prompt customer service. Marshfield Insurance Agency is a second-generation, family-owned agency that's been serving their customers for over 37 years. In January 2021, Marshfield Insurance acquired Ott Insurance in Wisconsin Rapids, now known as Rapids Insurance. The company directly represents over 45 different insurance carriers, has 25 team members and 3 locations (Marshfield, Wisconsin Rapids and Stratford).
Marshfield Insurance believes in being the best advocates for their customers. By joining together with Stratford Insurance, their teams look forward to continuing exceptional service in Central Wisconsin and beyond.
"Don Spindler, the principal agent at Stratford Insurance, is as experienced as any agent could hope to be! With the community he services and the carriers he represents, joining our team was a natural fit," said Arnoldy. "He will be able to keep assisting his customers with help from our expanded teams and resources. This partnership allows us to continue to service those customers for years to come."
The new affiliation will provide added benefits to Stratford Insurance customers, including access to additional companies plus life, health, disability & dental insurance products, easy access to an online portal with 24-hour claim service, and an expanded team with the friendly faces customers have come to trust.
"It's great to be able to offer the Stratford area the same dedication to community that we have been able to provide in Marshfield and Wisconsin Rapids," said Arnoldy. "We look forward to adding to our team and continuing to grow for the benefit of all of our customers."
Marshfield Insurance is located at 208 W 5th Street in Marshfield, 511 S 8th Street in Wisconsin Rapids, and 213025 Legion Street in Stratford. For more information, please visit www.MarshfieldInsurance.Agency.
Share this post?