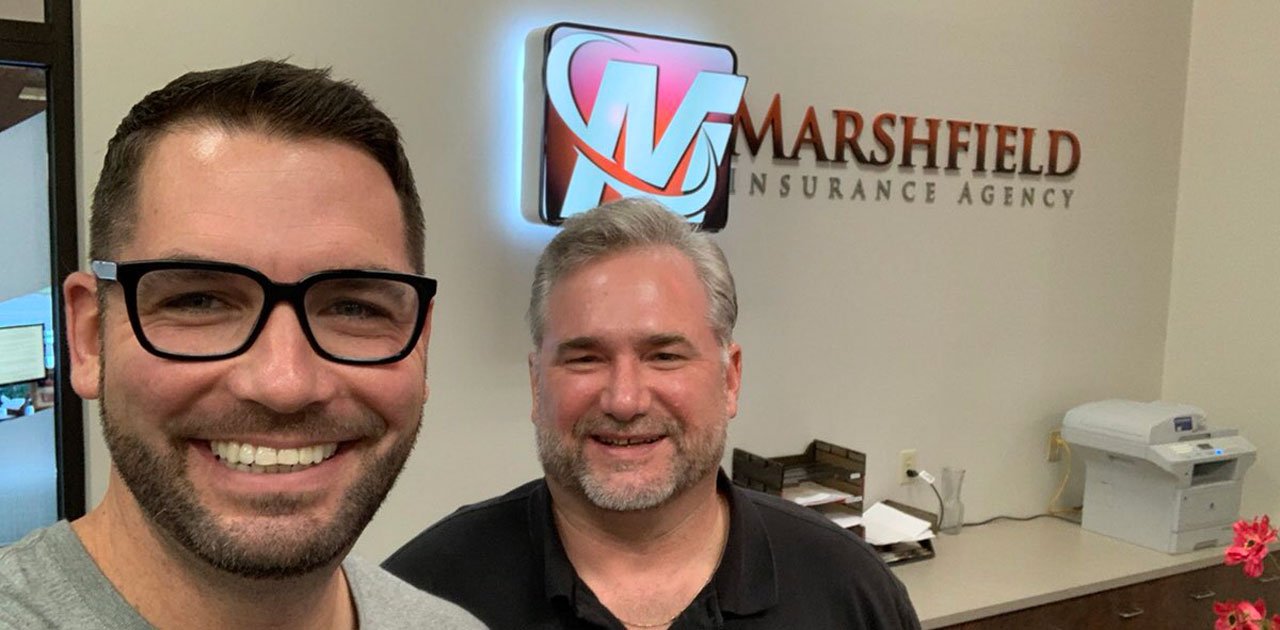 New CRM Designation Sets Agents Apart
Two commercial risk agents at Marshfield Insurance are on their way to becoming Certified Risk Managers (CRM), a nationally recognized designation that involves education hours, advanced courses, and rigorous examinations to prepare agents for the complex area of risk management.
Owner Nick Arnoldy and agent Cory Hofmann are already longstanding Certified Insurance Counselors (CIC) and are in Milwaukee this week to complete the first steps towards the higher CRM designation, with this first step involving 16 hours of instruction and a 2-hour written essay exam.
A few years ago, the National Alliance for Insurance Education & Research (which facilitates the classes and testing for CIC) added the Certified Risk Manager (CRM) classes and a designation. Already at the National Alliance to complete an update for their CIC licenses, Arnoldy and Hoffmann were excited at the opportunity to learn new information and take extra classes while there.
"Being a CRM is a relatively new course and designation," said Arnoldy. "There are not many agents in the nation that hold the designation.  I think having and maintaining that knowledge separates the basic informational agents from a well rounded advisor…dare I say, 'expert!'"
In 2018, there were approximately 1.2 million insurance agents, brokers and service employees (including unlicensed processors working for insurance companies etc.) in the United States. Of the 1.2 million 29,136 are designated CIC's (2.4%) and just 4,142 are designated CRM's (0.3%). Currently, the State of WI has 902 designated CICs & 103 designated CRMs.
Arnoldy said that this designation will help them to better understand what the insurers or companies are looking for when they underwrite a client, which can be useful information when a client or prospect is applying for coverage.
"The information in CRM classes is new and different from the information studied while obtaining and maintaining a CIC designation," he said. "The CRM information digs deeper into the analysis of risk, risk management or the underwriting process, whereas CIC information provides a thorough study of current policy forms, coverages, endorsements, and industry trends."
This means that rather than having the insurance carrier identify a potential hazard the customer was not aware of, or was aware of but hadn't made it a priority, the agent should be able to better pinpoint those issues ahead of time and minimize the client's exposure sooner.
"This can equate to lower rates," said Arnoldy. "More importantly, we'll be better risk managers – as the designation indicates. We need to be that resource for the client when it comes to safety and minimizing a potential injury or large loss.  Our job is not to always require or compel insureds to be safer; it's to point out the exposures and solutions and let the client decide what the best option is for them."
Once achieving the designation, Arnoldy and Hoffmann will need to attend annual continuing education obligations. Other staffers at Marshfield Insurance are also working towards various designations.
"We're always trying to improve ourselves and this is one of the many ways we do it," said Arnoldy. "As with any class there are tests which require a passing grade.  I think it's important to keep learning and enhancing your craft."
Share this post?