Marshfield Fire & Rescue Reminds Residents to Check Alarms
(
Adapted from OnFocus
) This Sunday, it's time to fall back for Daylight Saving Time. "Test smoke alarms once a month, and change all of your smoke alarm batteries when you change your clocks," recommends Interim Fire and Rescue Chief Scott Owen. The National Fire Protection Association reports that 71% of smoke alarms which failed to operate had missing, disconnected, or dead batteries.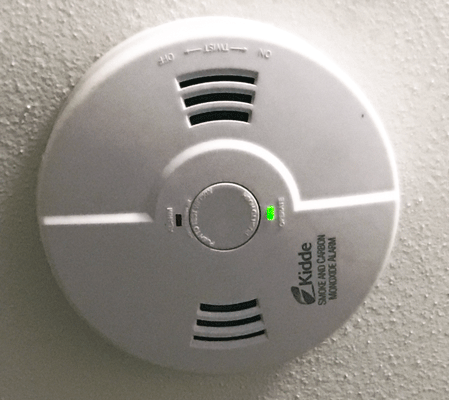 "This reinforces how important it is to regularly check smoke and carbon monoxide detectors," said Owen. "Some people think once they are installed they do not need to be replaced periodically. They should be tested monthly to ensure battery or power supply works. They need to be cleaned routinely to get rid of dust. People think they are not needed because the smoke will wake them up, when in fact it is the opposite." The State of Wisconsin requires having a properly functioning smoke alarm in the basement and on each floor level. The Marshfield Fire and Rescue Department further recommends installing smoke detectors in every sleeping room and in the hallway directly adjacent to those rooms. If sleeping rooms are on an upper level, a smoke alarm should also be installed in the center of the ceiling directly above the interior stairway. To assure optimal protection and avoid false alarms, a smoke alarm must be mounted properly. This can be achieved by following simple instructions included with every smoke alarm purchased. Should questions remain, residents are encouraged to contact the fire department for help. "A smoke alarm with a dead or missing battery is the same as having no smoke alarm at all," said Owen. "Smoke kills more people in residential fires than fire does." Owen added that smoke alarms detect the presence of smoke even before a person can see it or smell it, especially when flames might not be visible. "These devices are the primary means of notification of a fire when individuals are sleeping," he said. "Some people think they will wake up at the smell of smoke when in fact just the opposite can happen; it can deepen sleep to the point someone does not wake up. Working smoke alarms cut the risk of dying from a home fire by half."
Take care of your smoke alarms according to the manufacturer's instructions, and follow these tips from the U.S. Fire Administration:
Smoke alarm powered by a nine-volt battery

Test the detector monthly.
Replace the batteries at least once every year (twice is better).
Replace the entire smoke alarm every 10 years.

Smoke alarm powered by a 10-year lithium (or "long-life") battery

Test the alarm monthly.
Since you cannot (and should not) replace the lithium battery, replace the entire smoke alarm according to the manufacturer's instructions and dispose of it properly at a household hazardous waste site or by sending it back to the manufacturer.

Smoke alarm that is hardwired into your home's electrical system

Test the alarm monthly.
Replace the backup battery at least once every year.
Replace the entire smoke alarm every 10 years.
Protecting your home is simple: Change, Check, and Clean!
Change Your Smoke Alarm Batteries at least once (preferably twice) per year. Check Your Smoke Alarms – after installing new battery test the detector to make sure it works then test it monthly Clean Your Smoke Alarms once a month to remove dust and cobwebs. If your Smoke Alarms have been painted or contaminated, replacement may be necessary.