Cole Hoffmann and Nic Lotzer, recently joined the Marshfield Insurance Agency team, but they are no strangers to the insurance industry. Both of their respective fathers, Cory Hoffmann and Pete Lotzer, have been longtime staples at the local company. Together, these two father-son duos cement a tradition that combines family legacy and professional excellence – a tradition that started with late founder Roger Arnoldy and current Owner/Broker son Nick Arnoldy.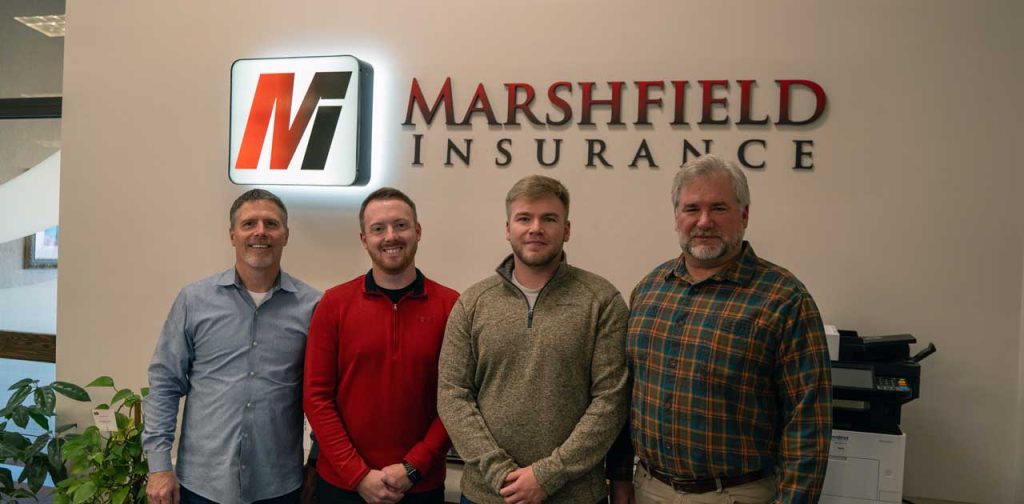 Exemplifying Family Values
Cole, who joins the team as a Personal Lines Producer, expressed his enthusiasm about working alongside his father.
"For my whole life, my dad has worked for Marshfield Insurance and I've seen what a great career it can provide. Knowing that, I'm super excited to work alongside my dad and learn from someone who has been in the industry for so long," he said. "It's a cool aspect to be able to go to my dad, who has incredible knowledge about the insurance industry, for work related questions, concerns, etc."
Cory, who has been a Commercial Risk Agent with the team since 2002, said he enjoys seeing his son at work every day and is excited to be working alongside him.
"One of my strengths is a deep sense of empathy for my clients. To serve people best, you have to be able to see things as they see them and care about their impression. I see that trait in my son," he said.
"I think our core values are very similar in that we both are very honest, relatable, and generous," added Cole. "That translates to the customer base of business and we both strive to give customers the best service possible within company guidelines. My dad has done an incredible job at MI and I'm very eager to continue his positive effect with the company."
"The word 'legacy' comes to mind but, really, Cole isn't a clone of me. He is his own person with his own set of strengths and his own style. Hopefully, he can learn from my 30+ years of experience in the industry but he will leave his own mark on this place."
Nic Lotzer and father Pete Lotzer never expected to be working together, but for both it has been a great experience.
"It was honestly something I never thought I would do in my career but after joining and now working closely with my dad, I have really enjoyed working with him," said Nic. "We have always had a pretty strong relationship and I have a huge appreciation for his knowledge and the time he is giving to help guide me throughout my onboarding process. I know he is going to give me an honest answer to all of my questions and show me a path that will allow me to be successful in this business, similarly to his."
"It's been humbling, and I totally enjoy it," said Pete. "I'm very proud of him."
Both echoed the Hoffmann's values, stating that honesty, integrity and putting the clients best interests before their own is paramount.
"Our philosophy is to provide the right coverage for our clients with honest and open communication. We want to ensure that they have the coverage they truly need in place throughout their entire coverage period," said Nic. "Things can change in the business world on a day-to-day, week-to-week basis so having strong communication (both ways) goes a long way and provides for a much stronger relationship and success rate. We want our clients to know that we don't take their business for granted and keeping them as a client is a priority."
The presence of father-son duos in the company is a positive indicator for the company's current situation and its future.
"I think by us working together it helps get the connection with our current clients to see how our sons saw that we enjoyed doing what we did and the hand off from us to that next generation is much easier," said Pete.
"I believe it showcases our community-focused approach to business and that we place a high regard on our personal values within the agency that is then showcased to our clients," added Nic. "I feel that the values my dad has shown and passed along to me will continue within our organization, allowing for a continued level of service that his clients, and my future clients, will and should expect."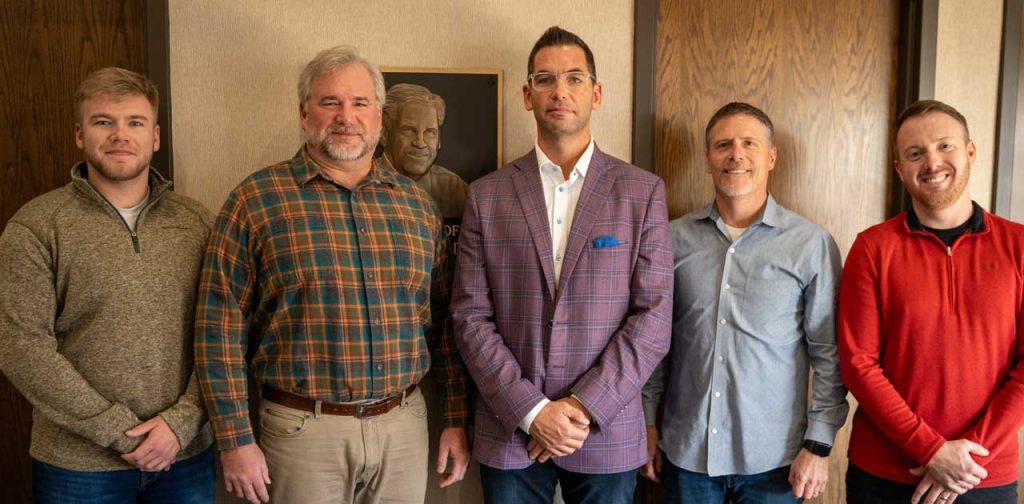 A Legacy of Family
Marshfield Insurance is no stranger to the power of the father-son duo. Founder Roger Arnoldy, who passed away in 2014 from Lewy Body Dementia, was succeeded by his son, Nick Arnoldy, who joined the agency in 2003.
"My father started the agency. I didn't anticipate moving home after college but the opportunity to join and potentially carry on the family business was something I felt I needed to explore. Working with my dad and family was great, once I was here it immediately felt right," said Arnoldy. "Roger was my mentor, not just in insurance but who I looked up to. That feeling only solidified as I got to work with him, he was hard working, confident, and respected by everyone I worked with or talked to. Many people still mention how much respect they had for dad today. My motivation when joining the agency, and now carrying on the agency, was to make him proud."
Arnoldy said that these days his focus has shifted to making his kids proud.
"I want to show them how to be successful and how to handle certain situations," he said. "Maybe one day, one or all of my kids will join Marshfield Insurance, the door is open. I also want them to know that they need to do what makes them happy, not what makes me or someone else happy. We all just want our kids to grow up and have confidence, good health, and a job that fulfills them no matter what that is. It's my job to help assist all of that."
"There is no greater compliment to any business than having a son or daughter of a current employee join the team," said Arnoldy. "As a parent I know we want better for our kids than we do ourselves and we want to help set them up for success. If an employee feels strongly enough to have their son or daughter start a career with our agency, we know we've created a business that is secure, encouraging, and supportive of growth. That should translate to a lot of our clients, wouldn't you feel better doing business where the people who work there want to see their kids be a part of what is happening?"
"I would love nothing better than to see Nic and Cole someday working with one of my kids. How cool would that be?!" he added. "I've had such a positive experience working with their dads, I forget that we're work colleagues first. I would also love that type of a relationship for my kids when it comes to work. I think the 2nd and 3rd generations can continue to build and evolve on what we've done just like I've tried to do from the generation before me."
The collaborative efforts of these father-son duos bring a unique blend of experience and innovation to Marshfield Insurance Agency. The exchange of insights, from longstanding industry knowledge to fresh perspectives, contributes significantly to the agency's success.
"Getting to work with your children or your parents is time that most don't get, if you're lucky enough to get that opportunity, enjoy it!" said Arnoldy.